The autumn air was light and crispy, exactly the way fall air is supposed to be. A few fallen leaves scattered up the path to the Schellers' sweet, welcoming pumpkin-lined porch. There, a cheerful flag waved in a gentle greeting as I entered the bustling home. Mia was gathering ingredients to make Snickerdoddle cupcakes, and not to be outdone, her brothers were pulling together their own sweet treat: chocolate covered marshmallows. The familiar hum of college football played low in the living room, while Tiffany cracked eggs and Mia scanned her recipe.



PIN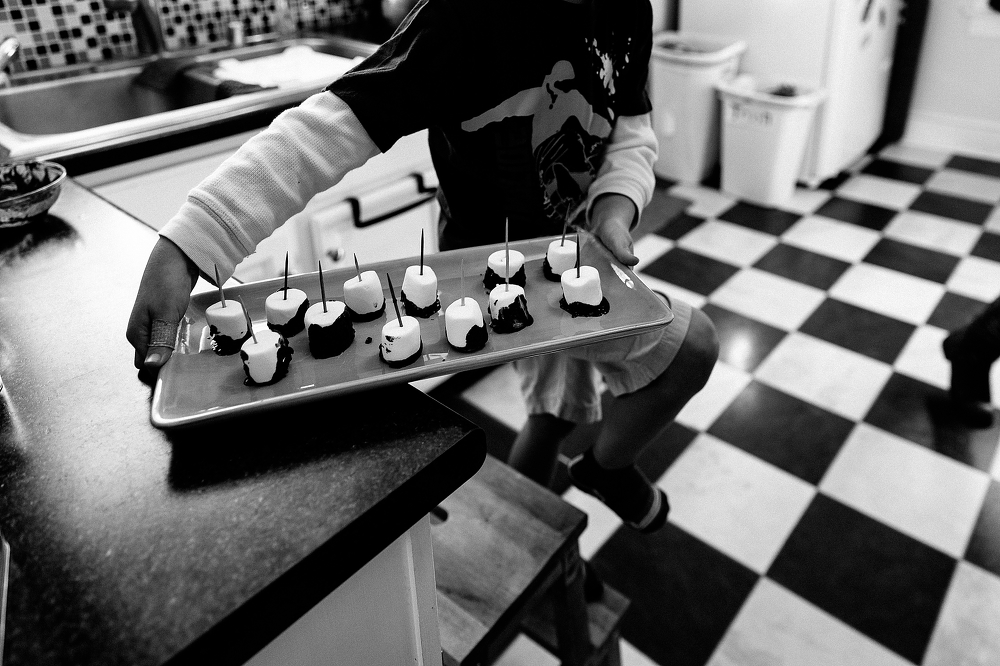 PIN

Part of what defines a big family is all the coming and going. People enter and leave spaces at a constant rate, almost like the movement is part of the family heartbeat. 



PIN




PIN




PIN




PIN

Toby knelt in his quiet, sun drenched bedroom. He deftly assembled a new Star Wars Lego with the organization and concentration of a seasoned pro. 



PIN




PIN




PIN




PIN

Mia fills pale liners with sweet, gooey batter, while Griffin, Steve and Tiffany set up the dining room table for a couple lightning fast rounds of Nertz. I so love family game time–both personally for my own kiddos and photographing how families play together! 



PIN




PIN




PIN




PIN




PIN

Toby picks up the instruction manual and box before going to show his parents and siblings what he built.



PIN




PIN

Cupcakes in, kiddos out. Steve, Mia, and Griffin set up a football pass triangle, friends stopped by, neighbors halted raking leaves into piles to say hello. I'm utterly charmed by their Little Free Library.



PIN




PIN




PIN




PIN

Mia spends some time in her room.



PIN

Along with bright chatter and the heavenly cake aroma, music notes from 80s British rock station float out of the iPod dock and wove itself into the tapestry of the day. 



PIN

All on their own, the three kids all break for quiet, independent activity time. You can find Mia doing gymnastics, Griffin reading, and Toby helping Tiffany shell ground cherries. Griffin and Toby have some iPad game time, while Mia deftly frosts the cooled cupcakes.
"Realize deeply that the present moment is all you ever have." – Eckhart Tolle



PIN




PIN

There are 52 Saturdays a year. What will you do with yours?
Here are Tiffany's thoughts about our session:
Our whole family loved working with Jen.  She met with us first to "interview" us so that we could explain what we wanted from a session, discuss locations and lighting and really just spend time together to make sure we both had proper expectations.  We enjoyed that time with her and felt good going into our session based on her questions and advice.  Once she came to our house, the kids were 100% comfortable with her presence.  She really blended into our world and we could easily forget she was in our space snapping photos.  The kids were very comfortable just being themselves.  She took her time and really did an excellent job photo journaling our lives – so we will always look back on this amazing chapter and fondly remember how our daughter was constantly doing handstands and our sons were playing cards and legos non stop.  We were super happy with her work and we consider her a wonderful new friend.  We can't wait for our next session.
Ready to schedule your very own documentary session? Contact me today to chat about your beautifully ordinary weekends!
xo, Jen


Beautifully Ordinary is a trademark of Jen Lucas Photography, LLC.