We are a group of 23 international photographers. Now into our sophomore year, each week we share an image from a moment in our own personal world as if we are sending virtual postcards to each other. I find the curating to be an extraordinary piece of the art itself; the images take on a life that seem to speak to each other as they flow from one to the next. A visual dialogue. However, the only person who sees our individual images ahead of time is the curator. She makes it downright magical.
This first image here is what I submitted for Wish You Were Here this week. John serving a hunk of cherry pie on the Fourth Of July. But instead of showing you just a snippet, I'm including more–because, well, cherry pie.
It sounds so hokey to say I had a hankering for cherry pie. But I did. We booked our little house on the lake up in Door County again this year, and so I felt it was time to extract the second bucket of cherries we bought last year from the freezer….to make room for more buckets of cherries this year. Naturally.
I made a super simple pie crust. Flour, butter, salt, ice water, minuscule amount of sugar…..this is not a pastry crust. And the following recipe is crazy easy. Truly.
Door Country Cherry Pie via The Little French Bakery
4 cups pitted tart cherries
1 1/2 cups sugar
4 Tbsp cornstarch
1/2 tsp salt
1 Tbsp heavy cream
1 Tbsp granulated sugar to sprinkling on the crust
1 batch double crust pie dough
Preheat your oven to 400 degrees F.
After the cherries are pitted, drain off most of the juice, and add the cornstarch, sugar, and salt.  Allow to rest for about 10 minutes.
Roll the bottom pie crust and place in the bottom of the pie plate.  I would recommend a 9″ pie plate, not too deep.
Place the cherries and most of the juice in the crust.
Roll the top crust and drape over cherries.  Trim the top crust about 1/2 inch past the edge of the pan.  Turn it under the bottom crust and with your index finger and thumb of one hand, press and pinch the crust around the other index finger.   Make five or six inch slits on the top of the crust.
Brush the crust with heavy cream and sprinkle with sugar.
Place the pie on a parchment paper or silicone mat lined baking sheet.  Bake at 400 degrees for 20 minutes.  Reduce the heat to 350 degrees F, and bake until juices bubble out the top slits, about 30 minute more.  If the crust starts to become too brown, tent the pie with foil or just make strips of foil to protect the edges from becoming too dark.  Cool completely.  It's best to serve a pie the day after it's made so the juices can thicken.*
*Ack, I didn't read that part until 1pm on July 3.  I had planned to serve it with BBQ chicken, potato salad, corn on the cob, biscuits that night. Whoops. We waited. And glad we did.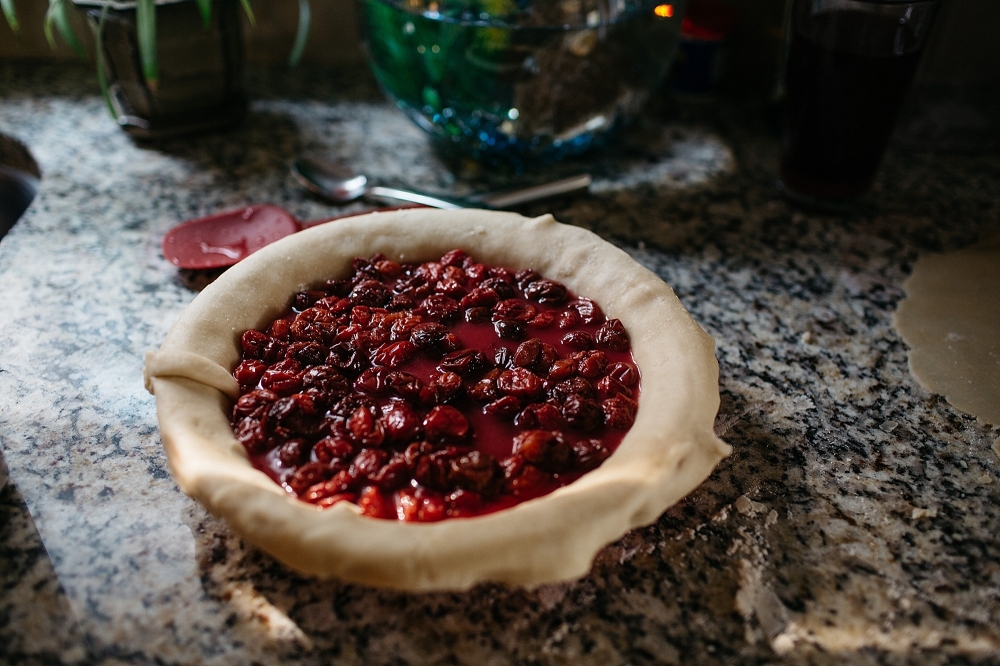 PIN

Charlie helps roll out the top–opting for a full crust over the lattice one we made for Thanksgiving. My kitchen gets trashed when I'm baking. Please tell me I'm not the only one.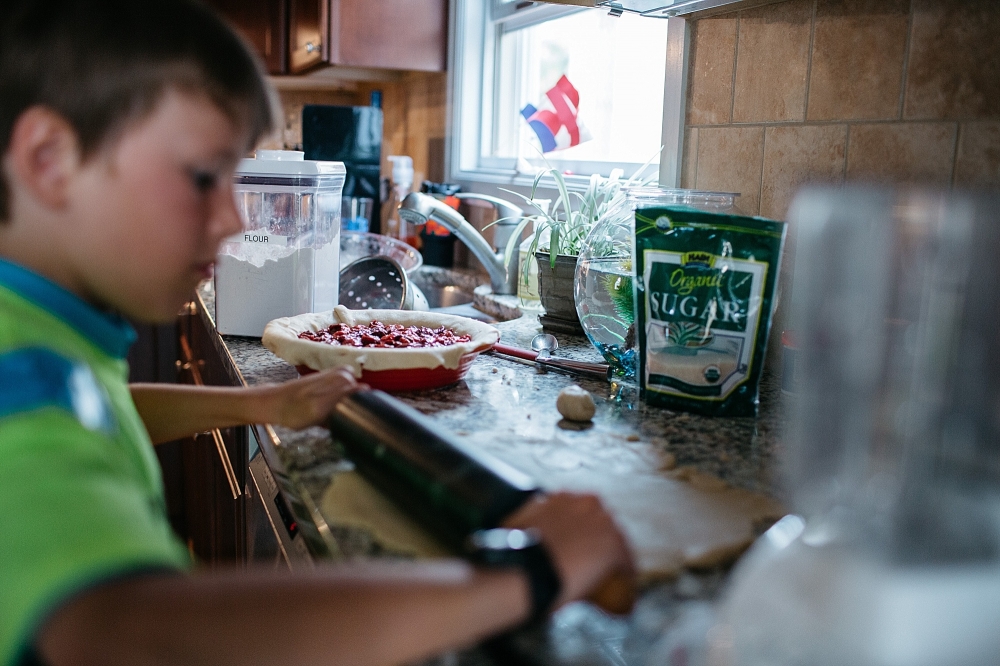 PIN




PIN

One day later–it was worth the wait.




PIN




PIN




PIN




PIN




PIN




PIN

Our neighbor gave me 1/4 cup of sugar so I could finish the recipe, so we pulled off a large hunk for her & her husband to enjoy.




PIN




PIN




PIN

Beautifully Ordinary is a trademark of Jen Lucas Photography, LLC.